Benefits of Social Media:
What is social media marketing?
Social media has become essential to people's daily lives and benefits individuals and businesses. Social media marketing connects businesses with customers via platforms like Facebook, Instagram, Twitter, and LinkedIn. These platforms help create and share content through posts, images and videos to engage and inform users. The goal is to increase brand recognition, cultivate customer connections, and generate traffic or sales. Social media marketing can target specific interests, making it a cost-effective and precise way to reach potential customers. It allows businesses to interact with followers, respond to feedback and promote their products or services, harnessing these platforms' influence and mass user base. With Apex Infotech India's services, you can kick your business into the virtual marketing world.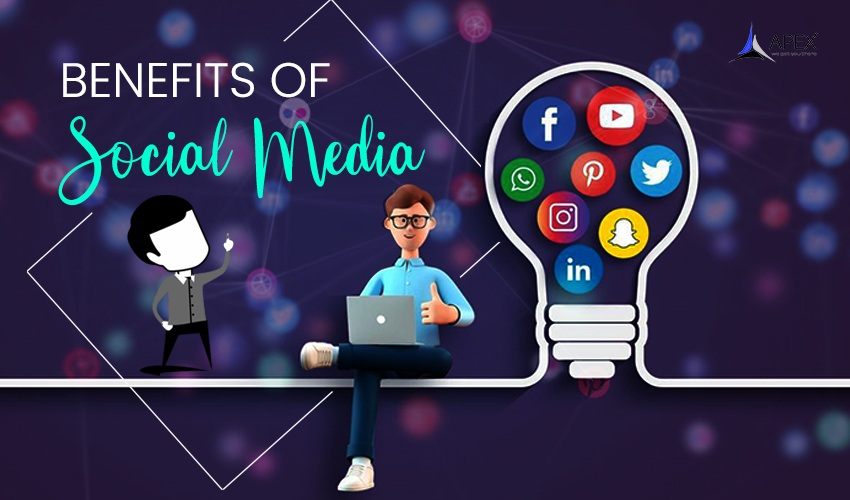 Why is social media marketing important?
Businesses must prioritize social media marketing to elevate their brand visibility and expand their reach.Companies can create loyal customers by personalizing connections.It allows direct interaction with customers, building loyalty and trust. Unlike traditional advertising, it's cost-effective and can be tailored to specific demographics. Real-time user feedback helps adjust strategies, improve products or services, and increase website traffic. Small businesses can leverage social media to compete with larger ones, influence consumers, and gain valuable insights into customer behavior, refining marketing strategies to stay competitive in the digital world.
What does Apex Infotech India offer in context with social media strategies?
We have a plan that's made specifically to use the power of social media in the Indian market. We make strategies that are specifically designed according to your personal needs. About 250 million people in India use social media to check out products and decide what to buy. At Apex Infotech India, we aim to help you reach these people with special social media marketing plans we create just for you. We care about your unique business and want to give you the best SEO services in India. We're here to help you with any problems and reach your business goals to help your brand grow With the help of our different digital marketing services, which make things simple and convenient for you.
Here are the different advantages of social media –
Brand Awareness: – Social media is like a big marketplace today; businesses want to put their brand in the digital market. Our SEO Agency in Mumbai can help with this by regularly sharing relevant content. This way, a brand can introduce itself and make a strong impression on new and current customers. Using social media, a brand can develop recognition in the market. Over 7 billion people use social media, so it's a great way for businesses to become familiar with a large audience.
Cost-Effective: – Using social media for marketing is a very budget-friendly way to advertise online. It's a smart choice for businesses, whether big or small. One major reason is that it's cheap and accessible to all. This means even small or new businesses can get started online without spending much money. It gives everyone a fair chance to compete in the market space.
SEO and Social Media: – Marketing are two important digital marketing methods that work closely together.They help businesses become more visible online and bring more website visitors. With SEO, businesses bridge the gap between their physical location and the digital world, ensuring they can be found online. At Apex Infotech India, we're proud to be a top SEO agency dedicated to providing excellent service. We take SEO seriously because it's crucial to successful digital marketing. No matter how complex your marketing needs are, we're ready to create a customized SEO plan that fits your brand perfectly. At Apex Infotech India, your businesses will receive the Best SEO Services.
Customer Engagement: – Customer commitment is crucial to social media marketing. In the digital age, where social media platforms have become an integral part of our daily lives, businesses have a unique opportunity to connect with their audience on a more personal and interactive level. Customer engagement through social media transcends mere advertising; it's about building relationships, nurturing brand loyalty, and creating a thriving online community. Businesses can gather valuable insights and improve their products and services by collecting feedback through social media platforms.
Global Reach: – Social media is like a big stage where your brand can be seen by people worldwide. In today's digital world, social media sites like Facebook, Twitter, Instagram, and LinkedIn let businesses, groups, and people connect with people from anywhere. They break down the distance barriers, making it possible for even small businesses to become known worldwide, not just big ones.
SEO services are efficient in developing your business's reach. It helps enhance traffic on your websites through organic search. This increasing traffic generates revenue for businesses.
We see how social media can benefit your brand or company by connecting you to the masses and enabling you to learn from your customers and tune your marketing strategies to their needs, resulting in better sales and customers. To do the same, Apex Infotech India is the Best SEO service provider, which covers all your needs and gets the task done efficiently and flexibly to the customer's needs.